I enjoy reading, but since going into the working world, I've found it somewhat challenging to read as often as I used to. Goodreads has an annual reading challenge, where at the beginning of each year you set an amount of books that you would like to read. The last time I attempted this challenge, which was in 2013, I set a crazy amount of books (30 books) and only managed 20. This year I decided to one again participate in the challenge, but set a realistic goal of 12 books, which would be one book per month.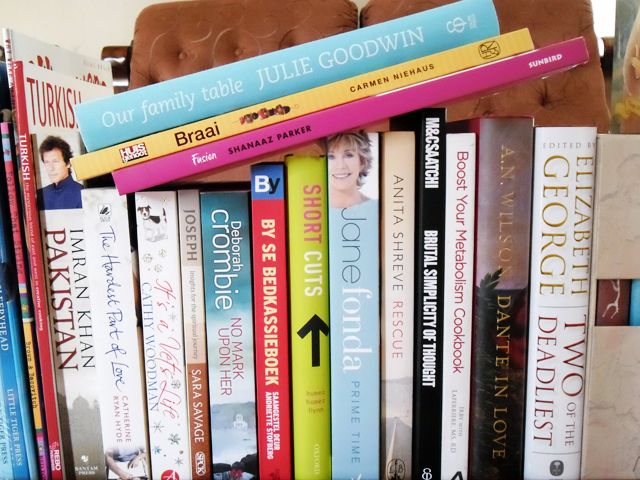 Eight months into the year, I've read 12 so in essence I've completed the challenge. This is partially due to the fact that I've started listening to audio books. They're not the same as reading a book, but I've found them quite enjoyable and a welcome change when I don't feel like listening to music during my 30 minute drive to work. Here's a list and short review of each of the books that I've read so far.
Doctor Sax by Jack Kerouac
I picked this book up on a whim at Bargain Books. Despite being a thin book, I find Kerouac's writing rather complex, so it took a while for me to read. It is about Kerouac's alter ego, Doctor Sax, which he had as a child. The story is a mixture of fantasy and realism, best suited for die hard Kerouac fans. I rate it 3 out of 5 stars.
You against me by Jenny Downham
This is one of the books I won in Exclusive Books 1 Minute Red Trolley Dash so it has been sitting in my bookshelf for a while. The book deals with sexual assault and I enjoyed the way Downham navigates around a difficult and complex situation. The main characters of the book, Mikey and Ellie are in a very peculiar situation, Mikey, whose younger sister, Karyn, is a victim of sexual assault and Ellie, whose older brother, Tom, is accused of sexually assaulting Karyn. Initially Mikey and Ellie end up friendly to one another to assist their siblings in the rape case, but they end up falling in love. Ellie plays a central role in the case, the information she has, can potentially destroy Karyn or her brother's life. I may or may not have cried while reading this book. I rate it 3.5 out of 5 stars.
Alice's Adventures in Wonderland by Lewis Carroll
The first time I read this book was so long ago that I could not 100% accurately recall the complete storyline, particularly the ending. I downloaded the dramatic version of Alice's Adventures in Wonderland on Librivox (it's free and as far as I know, legal for us in South Africa). The dramatic version is very entertaining. If you're going on a road trip with children, I suggest downloading it to help keep them entertained. I rate it 4 out of 5.
Leaving by Karen Kingsbury
Wow this book is a bore. Leaving is the first book in the Bailey Flanigan series and I bought it along with the second book as a gift for my mom. Well she never read either. She enjoys Francine Rivers' books and a lot of people who enjoy her books also enjoy Kingsbury's work. So I thought she'd like it. The book was just lying in the bookshelf, gathering dust so I picked it up and boy, was it boring. I can sum this book up in one sentence. Bailey Flanigan is perfect and perfectly boring, the End. I rate it 1 out of 5 stars and will not recommend it to anyone.
Yes Please! by Amy Poehler (audiobook unabridged)
As a comedian, Amy Poehler is hilarious. There were many mixed reviews on the written version of Yes Please! So I decided to try out the audio book. She reads the bookshelf, with some assistance from various other people. In the audio book she really brings out her character and although I was entertained, it does not make me want to read the written version. I rate it 4 out of 5 stars
Gingham Mountain, Petticoat Ranch and Calico Canyon by Mary Connealy (The Lassoed in Texas series)
The Lassoed in Texas series consists of three books and each book features a different woman. I picked up the third book in the series, Gingham Mountain, at CUMBooks for R15. It was cheap and I was looking to read something different. This story is about Hannah Cartwright, a schoolteacher who is determined to prevent a farmer from adopting orphans to work on his farm. I enjoyed Gingham Mountain so much that I downloaded the Lassoed in Texas boxset (it was cheaper) onto my Kindle. The first book in the series, Petticoat Ranch, is about Sophie Edwards, a widow with four daughters who ends up marrying the identical twin brother of her dead husband. Weird I know, but the rest of the story is rather interesting. Calico Canyon is the second book in the series and it tells the story of Grace Calhoun, a schoolteacher who is fired from her position due to the six sons of Daniel Reeves, and due to the backwards rules of the time, she ends up marrying Daniel. As the titles suggest, the series is Western Romance, but it has a biblical theme to it, but it's not the main theme of the books but considering that I bought it at a Christian bookshop it should not be a surprise. The books were fun easy reads. I rate each book in the series 3 out of 5 stars.

Best White and Other Anxious Delusions by Rebecca Davis
Read my review of Best White here, where I rate it 5 out of 5 stars.
Never Let Me Go by Kazuo Ishiguro (audiobook unabridged)
When I downloaded this audio book, I vaguely remembered some reviews I watched on Youtube that mentioned Never Let Me Go, is a really good book. It's a good thing that I did not recall that it is a science fiction novel and I did not read the book contents before downloading, or I may have never listened to it. Never Let Me Go is possibly the first science fiction book that I willingly read (in high school we read some science fiction stuff, but I cannot recall what it was as it did not interest me and to me The Hunger Games felt more like fantasy than science fiction). The book tells the story through the eyes of Kathy, a student at the boarding Hailsham, but Hailsham is no ordinary boarding school. Early on in the story I noticed that Kathy never mentions anyone's parents or going home for vacations, but that because the children at Hailsham do not have parents and no home, for they are clones. That's right clones, but not any clones, they are created for the sole purpose of being donors, and not your regular blood donors and organ donors who give their parts after they have passed on. Nope, your parts are extracted while you're still alive and if you're a good donor, you can go through three or four donations, which is a euphemism for death. This audiobook is so poignant and it is a well told story. If you're like me, someone who doesn't have a keen interest in science fiction, but would like to just try out the genre, this would be a good book to start with. Actually, even if you're not interested in trying science fiction books you should read this. I rate it 5 out of 5 stars.
I Capture the Castle by Dodie Smith (audiobook abridged)
I Capture the Castle is one of those classic books that everyone is supposed to have read at some point in their adolescent lives. I listened to the abridged audiobook a few weeks ago and the story is told through the diary of the protagonist, Cassandra Mortmain, who lives with her writer father, glamorous step-mother and siblings in poverty in a rundown castle. It touches on a number of issues that many go through when they go from being a teenager to a young adult (unfortunately living in a rundown castle is not a common issue for most teenagers). I enjoyed it so much that I would like to read the written version, just not right now. There's too many other books I still need to get to. I rate it 5 out of 5 stars.
The Raven Saint by MaryLu Tyndall
After enjoying Gingham Mountain I went back to CUMBooks and purchased The Raven Saint, which is also the third book in a series (the Charles Towne Belles series) and also a mere R 15 (on a side note, publishers and bookstores I see your sales tactics). This book is about the daughter of a British governor who gets kidnapped by a French mercenary. The religious theme in this book is more apparent and although I enjoyed it, I don't think I enjoy it to the extent to also purchase the first two books. I rate this book, 3 out of 5 stars.
Just because I've read the amount of books that I've set out for the year, it does not mean that I will stop trying to finish a book a month. I'm currently reading the first book of The Lord of the Rings, the I've read it before in high school, but to be honest I do not remember much of it as I found it too much of a challenge back then. I'm glad I decided to give it another try as I am really enjoying it this time around. I only managed to read the second LOTR book, The Two Towers, a third of the way before giving up. I think I might tackle it again in December or early next year. I also plan on beginning Alex van Tonder's This One Time in the next few weeks. What books are you currently reading? Do you have any good suggestions?