Well not quite, or not any more atleast. Three years ago I went exercise and diet crazy and became fit. Two years ago I was working out twice a day, five times a week doing circuit and cardio-strengthening training. I was at the lowest weight I was in years and I was toned. I gave up gym, but continued with cardio-strengthening training and slowly the pounds crept back up on me. Even though I was eating the same amount of calories as I did before, my three hours that I worked out each day, was slashed in half to just one and a half, but I didn't gain all the weight I lost back.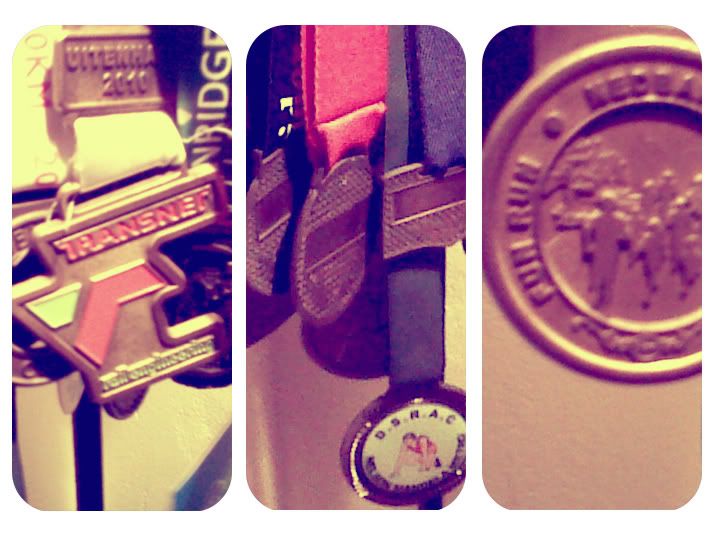 Some of the medals I received at races
.
I joined a running club, at first I was full steam, but I began running less and less. Slowly I began slipping in my work out routine, one off day a week grew to three and assignments took up much of my time. Theses days a good mouth is if I've worked out two successive weeks. Like I said I have gained all the weight I lost back, but I lost a lot of muscle. I  had done a number of 10km runs before, but because of my lack of working out I was in a running slump. The last 10km I had run was in January and it was definitely not one of my best times.
So in February I took up the Shape Magazine SA Run 10km challenge.The challenge consisted running 3 days a week for 12 weeks, but after 4 weeks between PMS and my treatise (I'm doing my MA) the plot was lost on me. Yep I lost it, bad.
Yesterday I decided to start on the 10km challenge again. It was really easy. I wasn't able to run today, but will tomorrow and post my progress. Hopefully it will keep me dedicated and stick to it.